YOU CANNOT LISTEN TO RADIO STATIONS WITH THIS APP! Rush Finder attempts to locate the strongest domestic U.S. radio station broadcasting the Rush Limbaugh show using your current GPS location, stored info from the FCC AM/FM tower database, and stored program listings from Rush's web site. Internet access is not required for normal operation.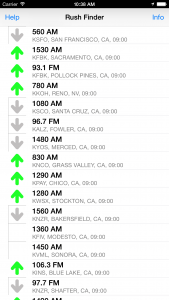 Rush Finder is useful when driving cross country to find the correct radio station at the correct time for listening to Rush Limbaugh from your car or truck radio.
The theoretically strongest stations are listed at the top with an (optional) arrow that indicates if you are driving towards (green) or away (gray) from the station. The arrow is only shown if your GPS indicates a course and bearing, which in turn requires your device to be moving. If you are moving parallel to the station no arrow is shown.
The calculated signal strength, which is used to sort the stations, is only an approximation. Ground conductivity, air temperature, storms, time-of-day, terrain, humidity, etc. all effect the station's real signal strength.
Problems can now be reported via email directly from the 'Info' view, selectable in the top navigation bar. Using the problem reporting functionality requires working email and an internet connection.