LogGPS is an ideal GPS data logger application to use for remote GPS data gathering on Apple devices.
LogGPS is used for aircraft surveying of pipelines. It can document that a pipeline marker was spotted at a particular location, date, time, aircraft speed, aircraft altitude, aircraft course, and any notes about the observation.
LogGPS is used for archaeological research to mark specific location and observations for that location.
LogGPS is used to identify condemned or should be condemned housing in urban areas by noting the location and observations about that location.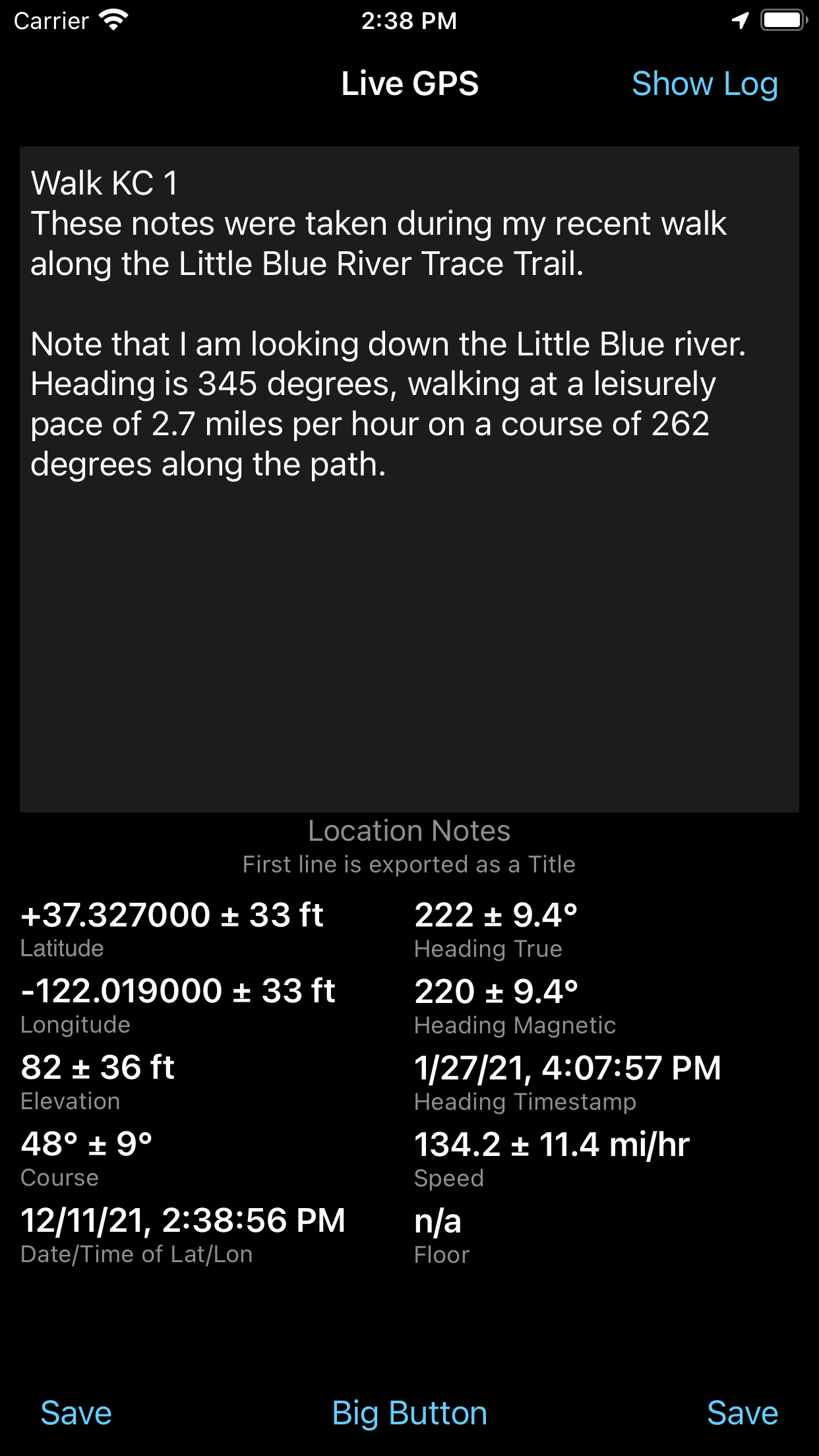 LogGPS simply saves all the data shown on the screen when you tap the 'Save' button. After all data points are saved they can be exported in csv or gpx format for use or analysis in other software.  LogGPS can show single data points on a map and has return to data point functionality.
The saved data includes notes, date, time, longitude, latitude, altitude, horizontal accuracy, vertical accuracy, speed, course, and heading.  The notes are not cleared between saves so you may save multiple data points with the same notes or you may clear or edit the notes between saves.
Tapping 'Big Button' activates the Big Button mode, which makes the entire screen a Save button.  To exit Big Button mode use the 'Cancel Big Button' button.  When you restart LogGPS it starts back in normal mode.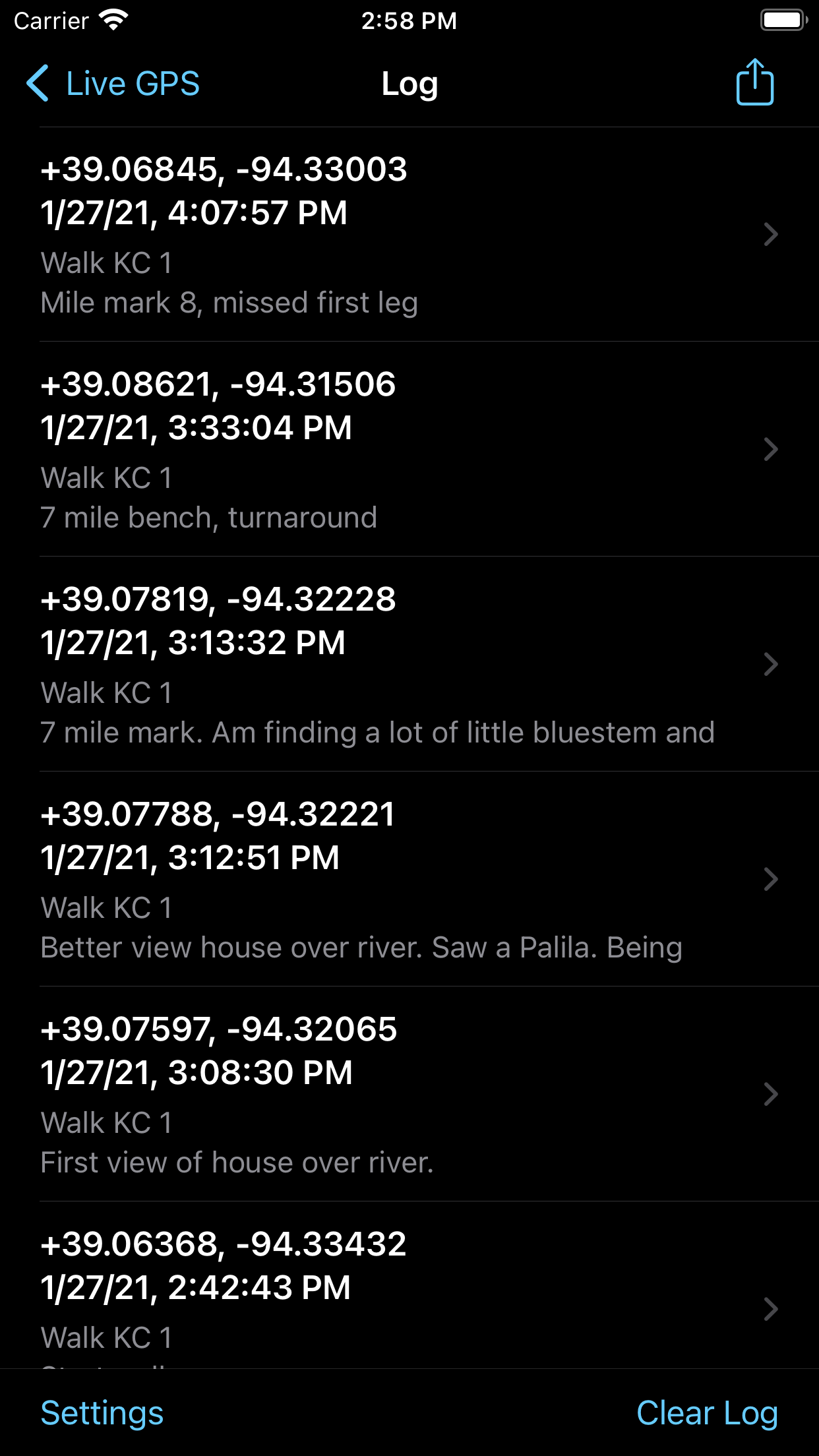 Once a data point is captured, the user may click the 'Show Log' button to view all GPS readings.
Sliding left on any reading allows an individual reading to be deleted.
Tapping the Activity Sharing icon shares the log file. The format of the file saved is determined by the formats selected in the Settings view.  Data is exported using metric units as supplied by Apple's APIs, with no conversions or adjustments.
Tapping 'Clear Log' will clear all entries in the log.
Tapping 'Settings' will provide the show the Settings view.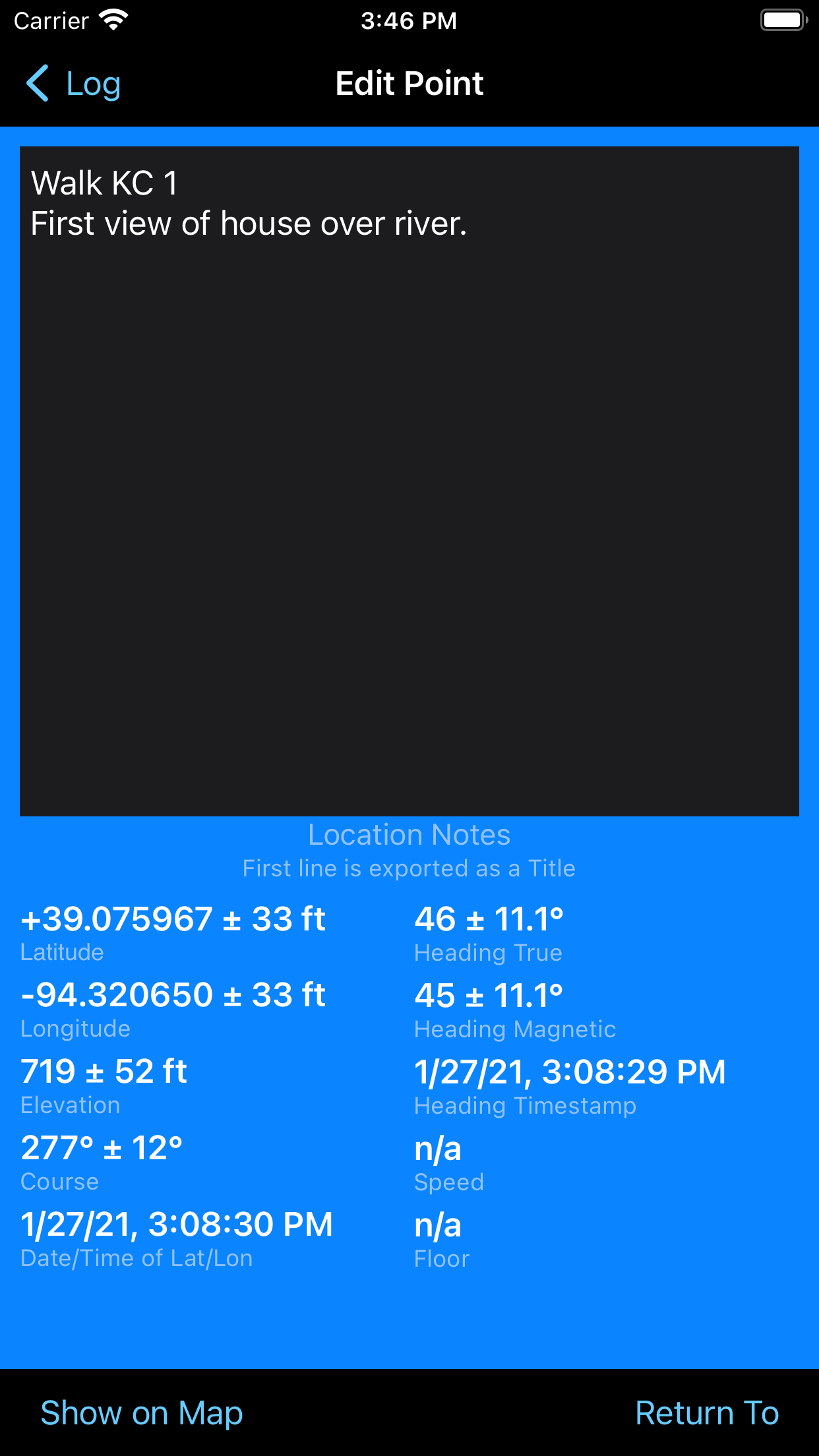 Tapping on any reading or the '>' accessory allows that reading's notes to be edited.
The blue background always indicates that you are in the edit view.  The GPS information is from the saved GPS reading.
LogGPS does not, by default, do any mapping and therefor it does not require any network access.  Because it does not require network access and does not record in the background it is fast and very easy on battery life.
Tapping 'Show On Map' will show the currently selected location in either Apple Maps or Google Maps depending on the settings in Apple Settings for LogGPS. 'Show On Map' will require network access.
Tapping 'Return To' shows a screen with live information for returning to a previous reading.  The view is green to denote the return to location view.
The arrow shows the direction of travel relative to the device required to return to the original location.  The distance and compass heading are also shown.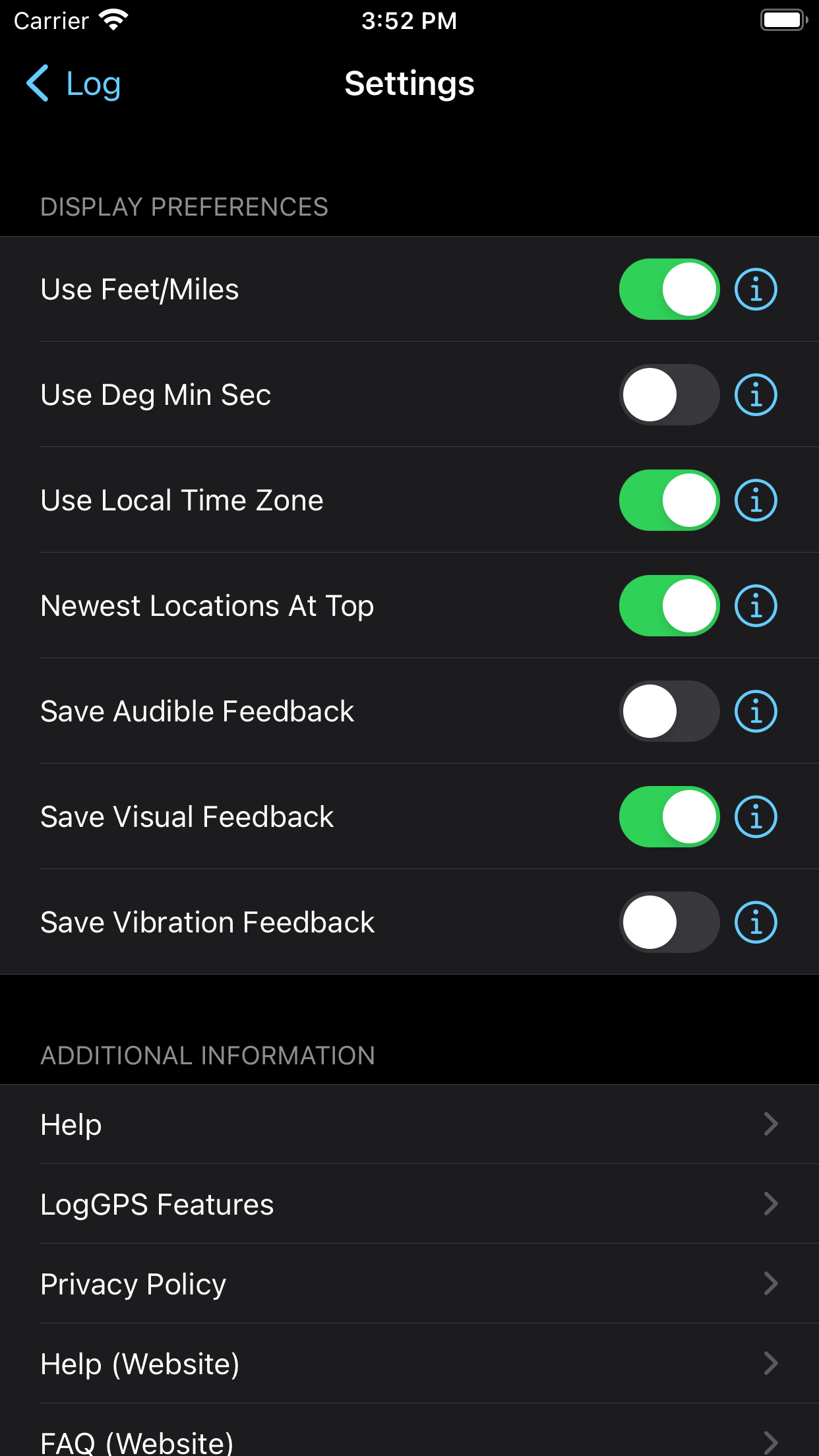 The settings, accessed from the log view allows changing the behavior of LogGPS.
At the top of the settings view you will see that LogGPS has been allowed access to your location.
This is required in order of the application to work.
You may select to use imperial units for distance or degrees, minutes and seconds for latitude and longitude.   If 'Newest At Top' is on, then new readings appear at the top of the log, otherwise they appear at the bottom.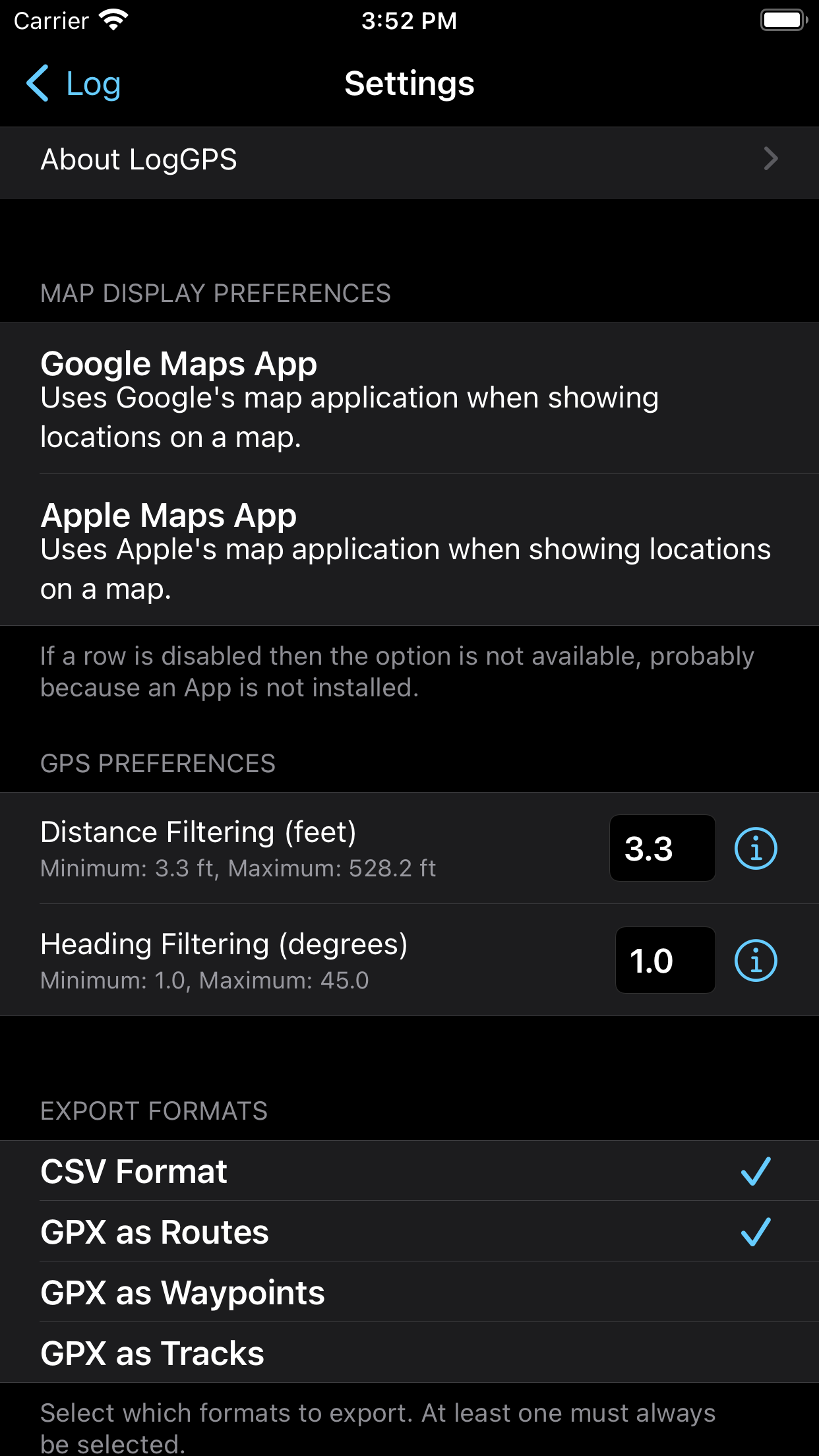 At the bottom of the settings view (scroll down) are settings to make the time display is the local time zone of your device.  Note that all exports use UTC time.
When saving a GPS reading the LogGPS can give an audible, visual or vibration confirmation.
Lastly, you can select which application you use to display a map of the selected location.  The options are Google web map, Google iOS application, or Apple Map application.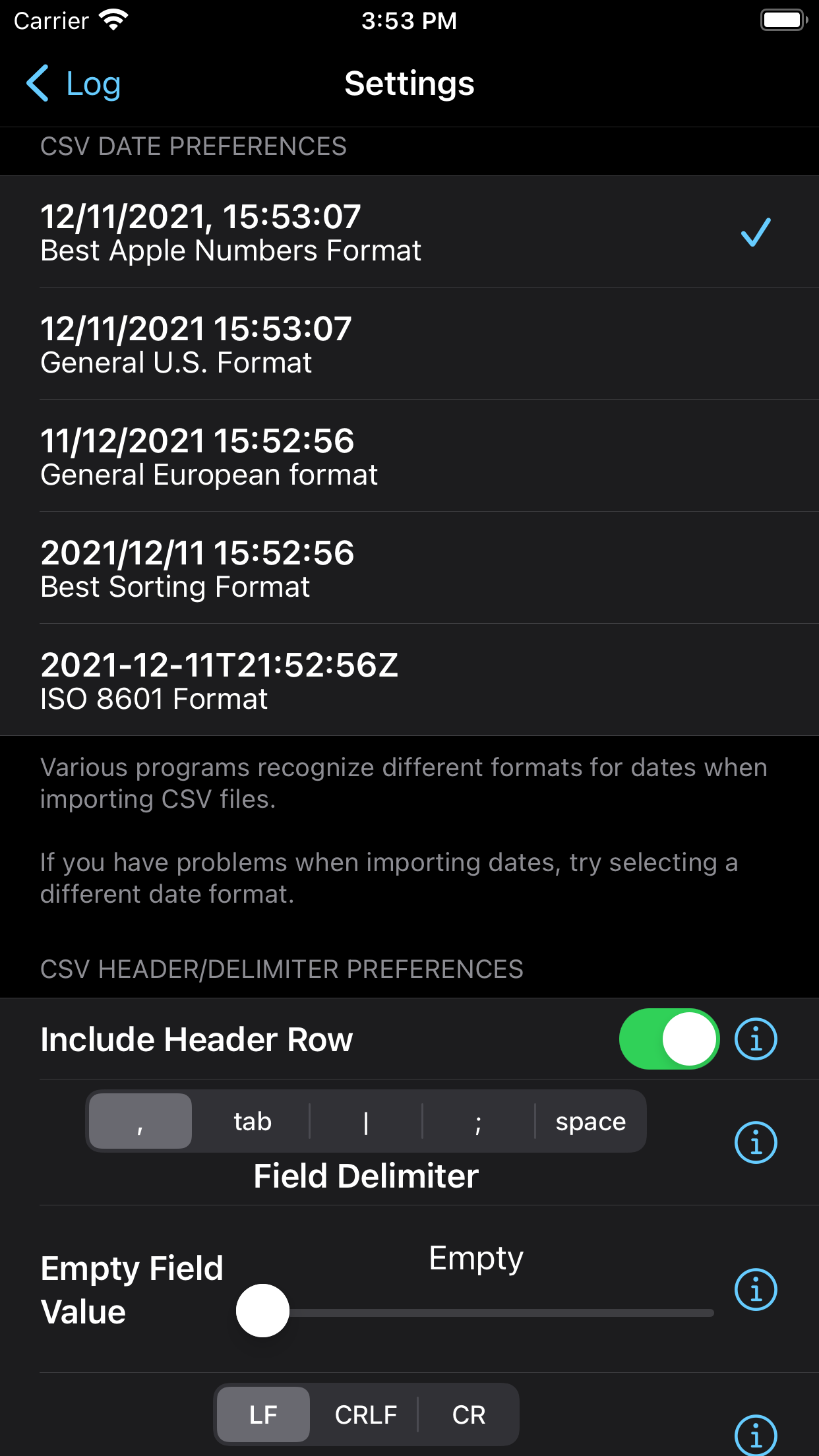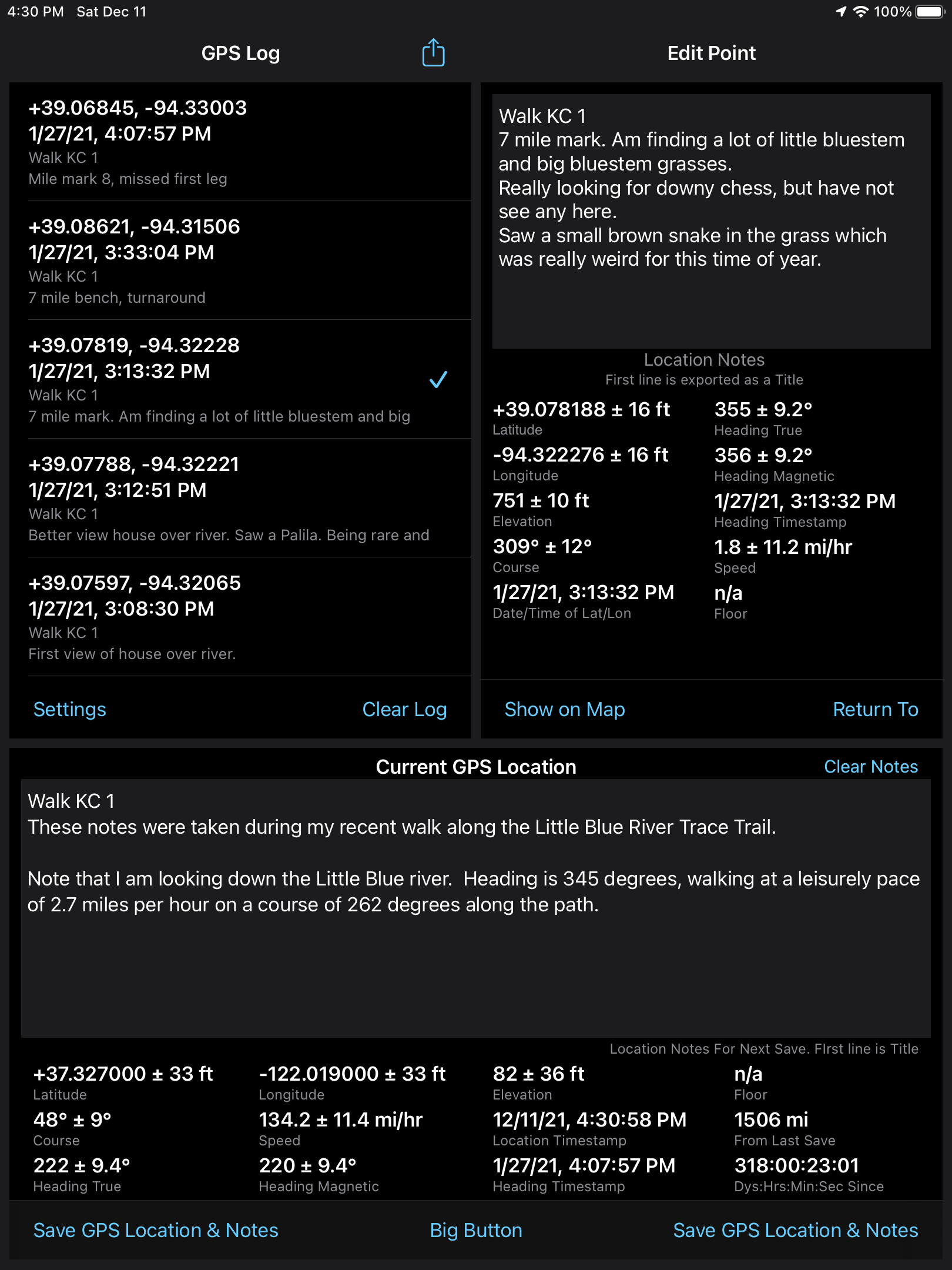 On the iPad the individual views are grouped together providing more functionality without having to use navigation.
Versions
5.0 – 11 December 2021 – Significant improvement in export formats. Support for light and dark modes. Add course and speed accuracy. Add GPX waypoints and track points.
4.0.1 – 29 March 2020 – Minor bug fixes and code refactoring.
4.0 – 29 March 2019 – Add ability to share csv and gpx exports, Move all Settings into LogGPS, Minor bug fixes, rewrite in Swift.
3.10 – 26 February 2016 – Add ability to send log files via email, Shortened export file name by removing the word 'Export'.
3.8 – 13 July 2015 – Fix bug with Big Button effecting the edit done button.
3.6 – 7 July 2015 – Add Big Button functionality.
3.4 – 27 September 2014 – Bug fix location services error.
3.3 – 23 September 2014 – Adjust to location services for API changes in iOS 8.
3.2 – 18 August 2014 – Add return to waypoint functionality. Add colors to clarify display modes.
3.1 – 22 Sept 2013 – iOS 7 improvements.
3.0 – 29 May 2013 – GUI improvements.
2.4 – 9 January 2012 – Add export to GPX file. Misc bug fixes.
2.3 – 7 November 2011 – iOS 5 & GUI updates.
2.2 – 13 June 2011 – Add show location on google maps.
2.1 – 6 May 2011 – Fix location start bug.
2.0 – 2 May 2011 – iPad native, GUI & bug fixes.